Important Notices
Regarding the 58th Conference of the Japanese Society of Pediatric Dentistry academic meeting, we have decided to cancel the event that was scheduled to be held at Okinawa in May 21st, 22nd, due to the spread of the novel Coronavirus,
(We will not hold a traditional "assembly type meeting at a venue".)
This academic meeting will be held on paper, in the "form of publication" through our website.
For those who applied for poster presentations, the abstracts you submitted have been published in our JSPD academic journal.
Therefore, if you want to present your poster through our website, we would like you to please email us the data of the poster (PDF format) which you originally planned to present at the venue of the academic meeting. (Deadline: May 25th)
Destination email addressjspd58@kokuhoken.jp
Please note that your posters will be released on our special website from June 1st to June 14th.
We will forward all emailed inquiries about your presentation to your attention, received by the meeting secretariat during the period of the meeting. Afterwards, please communicate directly with the people who made the inquiry.
The posters presentation which has been entries will be viewed on the website. Due to the capacity of our server, please prepare your poster with 10MB maximum.
When we do not receive the data by the deadline, we will consider that you "withdrawn your presentation".
Information of the 58th JSPD
Greeting
I wishes excellent relations of JSPD meeting in Okinawa
I will hold the 58th Conference of the Japanese Society of Pediatric Dentistry rally in Okinawa on 21st and 22nd in May, 2020.
At this conference, I want to make the international symposium an eyeball with ECC as the theme.
A researcher who is more famous than South Korea, Taiwan, Japan, and the United States is invited, and the lecture meeting and the symposium are held. One of the most exciting aspects of this conference is the opportunity to speak and discuss one's results of research between four countries. I want to take this opportunity to keep you informed about our studies and increase our affinity.
Dentistry is a fascinating one of medicine, but it is difficult for pediatric dentist to care very young children and their families so as to inform and instruct them about dental health.
In the future, the dental education will be very different from what they are today.
Let's gather by all means in everyone at this chance, and talk for children in the future.
I looks forward to meeting in Okinawa.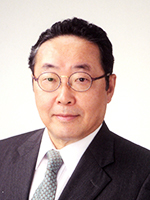 The 58th Conference of the Japanese Society of Pediatric Dentistry
Chairman Prof. Masao Ozaki
General Information
Date
May 21 (Thu.) - 22 (Fri.), 2020
Venue
Okinawa Convention Center
Congress Chairman
Masao Ozaki (Fukuoka Dental College, Department of Oral Growth and Development Division of Pediatric Dentistry)
Theme
Power to live, for future children
Office
c/o Oral Health Association of Japan
E-mail: jspd58@kokuhoken.jp
Important Dates
Registration for Presentation and Abstract Submission


November 11 (Mon.), 2019 – January 31 (Fri.), 2020.


* Presenters must register for participation first.
Online Registration for Participation


November 11 (Mon.), 2019 - March 25 (Wed.), 2020.
Registration
Please register through the Registration Form below. Please pay the participation fee at the reception desk in the venue. If the procedure is not completed within the deadline, the entry fee will be the ON-SITE fee.
The deadline for advance registration is Wednesday, March 25 at 15:00.
Registration Fee
Category
Early-bird registration
until 15:00, March 25, 2020
(Japan standard time)
On-site registration after
Banquet
Dentist
12,000JPY
13,000JPY
7,000JPY
Para-dental
6,000JPY
7,000JPY
7,000JPY
Banquet
Date and time


(time may change)

17:30 on May 21 (Thu.), 2020
Place
Conference Building A at Okinawa Convention Center
Transportation and Accommodations
If you need an assistance in booking a hotel, please contact the official travel agent
(JTB Co.,Ltd).
JTB Co., Ltd. is in charge of arranging accommodation for people participating in the conference.
There is a limit to the number of rooms, so we recommend that you proceed as soon as possible.
Contact
JTB Co., Ltd. (person in charge is Asami Takagi.)
E-mail:
tora5-3@jtb.com
Abstracts Submission (Poster Presentation)
The presentation acceptance has been closed.
Participants must register for participation regardless of choosing to present or not. Presenters must register for both participation and presentation. Only members of JSPD (the Japanese Society of Pediatric Dentistry) can present a paper. If you are a non-member, please get membership of JSPD first. To become a member, please ask to JSPD secretariat.
JSPD Secretariat
Ken-ichiro Tanabe
Oral Health Association of Japan
1-43-9 Komagome, Toshima-ku, Tokyo 170-0003, JAPAN
Phone +81-3-3947-8891 Fax. +81-3-3947-8341
E-mail:
gakkai3@kokuhoken.or.jp
Submission Deadlines:
11:00, Friday, January 31, 2020
11:00, Thursday, February 6, 2020 *The period has been extended
Applications for subject proposals (abstract submissions) are to be made by email. Please confirm the points below, download the template, and make your submission after entering your abstract.
E-Mail destination: jspd58@kokuhoken.jp
Important Note:
At the time of application, please write "Abstract Submission" in subject line.
An abstract should be written within 250 words in the box below. The content should include the brief descriptions of 1. Purpose(s) of study, 2. Material(s) and Method(s), 3. Results, 4. Consideration, 5. Conclusion, etc. (* for case report, 1. Introduction, 2. Case, 3. Progress, 4. Prognosis, 5. Consideration and 6. Conclusion)
Abstracts exceeding the character limit will be considered "incomplete."
Poster Presentation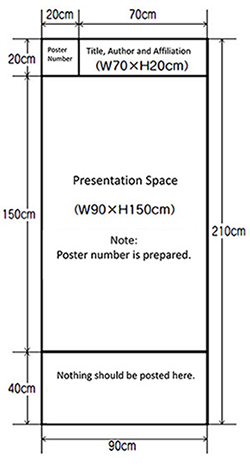 Date
May 21 (Thu.) - 22 (Fri.), 2020
Time of affixing
8:10-10:00, May 21 (Thu.) 2020
Time of removing
15:00-15:30, May 22 (Fri.), 2020
Time of discussion
Odd poster number
16:40-17:30, May 21 (Thu.) 2020
Even poster number
13:00-13:50, May 22 (Fri.), 2020
Each author is to be provided with a W900 mm X H2100 mm poster panel.
Box size of Poster number (to be announced later) is W200 mm X H200 mm.
Place the information of presentation title, author's name and affiliation to the right side of the poster number box (within W700 mm X H200 mm. Also, mark "○" in front of the author's name on the poster.)
The presentation style is free and the contents, including text, figure, graph or pictures must not be exceeded the provision frame of W900 mm X H1500 mm.
Nothing should be posted on the lower margin of the poster panel (W900 mm X H400 mm.)
For information of the poster size, please look at the picture. The management secretariat will prepare the poster number paper. Please make the left top corner blank to put the number paper.
The management secretariat will prepare push pins to put up the poster. Do not use other materiel to affix your poster to the panel.