English
General Information
Date
November 16(Fri.)- 18(Sun.), 2018
Venue
NAKANO SUNPLAZA
Chair of Organizing Committee
Koji Yamauchi (President of Nakano-ku Dental Association)
Theme
Circle of Support spread from the familiar town
- The Role of Dentistry for Disability in Multi-occupation collaboration -
Office
c/o Oral Health Association of Japan
E-Mail: jsdh35@kokuhoken.jp
Program
Special lecture

17th at 10:00
Adult developmental disorder and disability and oral health

Invited lecture

17th at 13:10
We are all living together ~ meeting, touching, sharing ~

Civil Public Symposium

17th at 15:20
Medical collaboration to support the familiar town ~ through dysphagia support ~

Educational lecture 1

17th at 11:00
Application of dysphagia rehabilitation and developmental swallowing regulated food classification 2018

Educational lecture 2

18th at 9:00
Developing research paradigm for Down syndrome

Educational lecture 3

18th at 10:00
Down's syndrome periodontal disease biology

Educational lecture 4

18th at 11:00
Periodontal treatment of disabled people (Down's syndrome)

Educational lecture 5

18th at 13:00
Theory and practice in periodontal treatment of patients with Down's disease

Educational lecture 6

18th at 14:00
Role and actual condition of dental hygienists in periodontal disease management of children with down's disease

Symposium

18th at 14:45
Preventive treatment of periodontal disease of Down's syndrome

Educational course 1

18th at 9:00
Team medical treatment for cleft of the lip - Efforts of the Kanagawa Children Medical Center –

Educational course 2

18th at 10:00
Oral function management of hospitalized patients in their perioperative period

Educational course 3

18th at 11:00
Oral care at the terminal stage

Educational course 4

18th at 13:30
Medical assistance with dental hygienists considering systemic management for dental hygiene
Registration
As we only have a pre-registration, we request your registration before August 31(Fri).
Abstracts Submission
Submission Deadlines: June 11, 1:00pm(in Japan time) Abstract submission has ended.
Applications for subject proposals (abstract submissions) are to be made by email. Please confirm the below points, download the template, and make your submission after entering your abstract.
E-Mail destinationjsdh35@kokuhoken.jp
At the time of application, please be sure to title the email as "Abstract submission", and send the email with the abstract file attached. In addition, within the email please clearly state whether you wish to make a poster presentation or an oral presentation.
Important Note:

Author(s): Authors are limited

15

per abstract.
Author(s) Affiliation: Enter the affiliation of all authors or only the first author.
Title: It is limited to

60

characters so make the title dynamic and conclusive, rather than descriptive.
Abstract Text: An accepted abstract must contain the following elements: objective, methods, results ―data and statistical analysis, conclusion and reference.
The abstract limit is approximately

1200

characters, which excludes the title, names of authors/co-authors, authors affiliations.
Graphs and tables will not be published in abstracts.
Abstracts exceeding the character limit will be considered "incomplete."
Accommodation
Accommodation desk we were entrusted to JTB Corporate Sales Inc.Kasumigaseki Account Sales Division4.
Please contact us directly.
The person in charge Kensuke Kawamura.
TEL:+81-3-6737-9321

Access to Nakano
The 35th Annual Meeting of the Japanese Society for Disability and Oral Health will be held at "Nakano SUNPLAZA" in Nakano City, near Tokyo, Prefecture, Japan.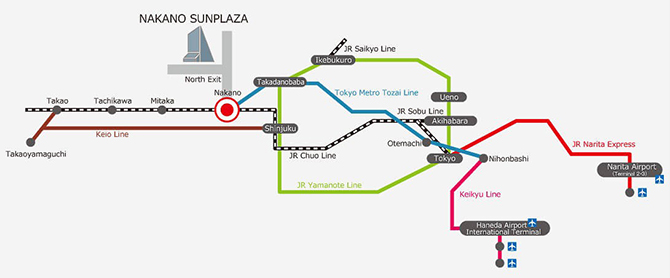 North exit of Nakano Station on the JR Chuo/Sobu Line and Tokyo Metro Tozai Line.